Upward Bound College Tours
One of the benefits of being an Upward Bound student is having the opportunity to join us on college tours! The purpose of college tours is for students to be exposed to other universities both in-state and out-of-state. Transportation, hotel accommodations, and meals are provided at no cost to students!
During these tours, we will: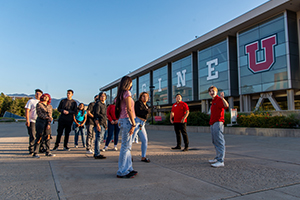 have a walking tour through campus
go over application requirements
discuss what majors are offered
discuss on-campus housing options
review tuition costs
explore what on campus life is like
meet with college advisors
tour TRIO office (if the college/university has a TRIO program)
---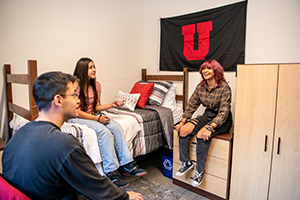 Eligibility
Juniors and seniors will have priority on these college tours, but this is contingent on student participation. It is highly recommended for all students to be active in Upward Bound (going to Saturday sessions, after school tutoring, workshops, etc.) to be considered for a spot to go on a college tour.
We try to schedule tours within Utah during the fall semester, and out of state tours in the spring semester. Destinations vary every year and are dependent on grant funding.
---
How to Apply
Applications are usually open 5-6 weeks before the trip. Please contact our office for questions or more information.
Past Tours
Colorado (Colorado State, UC-Denver, Metro State University - Denver)
Nevada (University of Nevada Las Vegas, Nevada State College)
Los Angeles (UC Los Angeles, USC, Cal State LA)
Arizona (Northern Arizona, Arizona State)
Central Texas (UT-Austin, Texas A&M, UT-San Antonio)